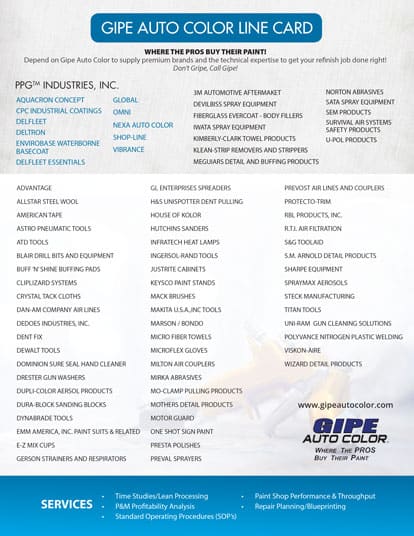 WHERE THE PROS BUY THEIR PAINT!
Depend on Gipe Auto Color to supply premium brands and the technical expertise to get your refinish job done right! We represent only the highest quality products on the market.
The groundbreaking waterborne technology behind PPG's™ Envirobase paint system is used at nearly 70 of our customer's collision centers!
Not just a basecoat color platform, the Envirobase High-Performance system provides a suite of undercoats and clearcoats that integrate flawlessly with its advanced waterborne basecoat, providing best-in-class color accuracy and durability.
OUR COMMITMENT TO YOU
In the ever-changing collision repair industry, your shop's competitive edge is key to success. That's why we focus on premium refinish solutions for your shop utilizing the most technologically advanced basecoat in the industry, an industry leading always updated chromatic variant deck and the most accurate color matching camera in the industry.
We pledge to use all the resources available to us to be a valuable vendor partner measuring our success by your success.